Paula Patton to headline David Talbert's Baggage Claim
Paula Patton to headline David Talbert's Baggage Claim
Posted by Wilson Morales
May 8, 2012
Source: Deadline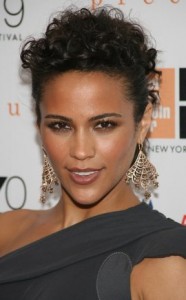 Fox Searchlight has set Paula Patton to star in Baggage Claim, a comedy that David Talbert has adapted and will direct from his bestselling 2003 novel.
Published by Simon and Schuster, 'Baggage Claim' gives you a first-class peek into the wacky world of Montana Moore (Patton), a 35-year-old flight attendant with enough baggage from her past relationships to fill an entire Samsonite showroom. Montana is an incurable romantic. A dreamer. The kind of woman who has her head in the clouds while her heart splatters swiftly to the ground.
With her mother having just tied the knot for a record-breaking fourth time and her baby sister, Sheree, rushing to jump the broom, five-time maid of honor Montana is dangerously close to becoming not only the oldest, but the only woman in her entire family never to be married.
Having convinced herself that there's no way in heaven or hell she's showing up at her sister's Christmas Eve engagement party without a prospect of her own, Montana concocts her wildest and most romantically ridiculous plan yet: a thirty-day, thirty-thousand-mile trek in search of a husband.
Will it be Damon Diesel, a young hip-hop producer whose motto is "Making the green scream and the dolla holla!"? Or will she win over the Reverend Curtis P. Merewether, pastor and founder of Greater House of Deliverance, Tabernacle of Praise, Worship, and Miracles? Of course Langston Jefferson Battle III, superattorney turned city councilman, needs a wife now that his sights are set on the United States Congress. Or perhaps her lifelong mate is Quinton Jamison, a multimillionaire textile guru twenty years her senior. Only time — or the lack of it — will tell.
Back in 2008, Fox Searchlight had picked up the rights for Talbert to direct the film, with Taraji P. Henson set to star, but after the dismal returns of 'Our Family Wedding' and 'Just Wright,' the studio decided to shut its efforts to distribute urban films.
The film will shoot in September and it will be Talbert's second time behind the camera. He wrote and directed First Sunday for Screen Gems, which was based on his play. Talbert is an underrated resource at a time when urban-themed films are in high demand after the success of Think Like A Man.
Like Tyler Perry, Talbert developed a following in the black community by writing and touring his plays, the most recent of which was What My Husband Doesn't Know, which played in 40 cities. He's been doing that for 20 years and seems poised for a screen breakthrough.
Patton is coming off Mission: Impossible — Ghost Protocol, and is currently starring with Denzel Washington and Mark Wahlberg in 2 Guns for Emmett/Furla Films and Universal, and Disconnect for LD Entertainment. She's repped by WME and Flavor Unit, while Talbert is repped by UTA and Brillstein Entertainment Partners.

Archives