Mary J. Blige Talks Rock of Ages
Mary J. Blige Talks Rock of Ages
Posted by Alexandra Hudgens
June 14, 2012
Coming out this week (June 15)  is the hilarious music film Rock of Ages, starring Tom Cruise, Mary J. Blige, Julianne Hough, Diego Boneta, Alex Baldwin, Bryan Cranston, Malin Akerman, Catherine Zeta-Jones, Russell Brand, and Paul Giamatti.
Directed by Adam Shankman, and based on the theater production, 'Rock of Ages' is a musical built around classic rock hits from the 1980s, especially from the famous glam metal bands of the decade. The musical features songs from Styx, Journey, Bon Jovi, Pat Benatar, Twisted Sister, Steve Perry, Poison and Asia, among other well-known rock bands from the 1980s. The musical centers on two people who meet at the Sunset Strip club Rock of Ages, fall in love and try to stay together amid '80s rock anthems.
For Blige, who plays Justice Charlier , a strip club owner, the Grammy-Award winning artist gets to sing not one, but a couple of songs she grew up listening to, 'Harden My Heart' and 'Anyway You Want It.'
Blige, who's also appeared in Tyler Perry's I Can Do Bad All by Myself, spoke recently at a press conference to promote the film and spoke about her experience on the set.
How did you get involved in the film?
Mary J, Blige: We, me and Adam Shankman, were at a housewarming party (for Jennifer Lopez) and hanging out and he kept saying that he would put me in a movie. Six months later he shows up with this script for Justice. I went to work. I got an acting coach. I worked even harder because he believed in me that I could do this. That's how this came about.
How much was it for you to sing these songs of the 80s?
MJB: It was fun for me because growing up MTV was the only music station in the 80s. That's how I got exposed to Journey and Pat Benatar, Axel Rose from Guns n Roses. That was a big deal for us. My father is a musician and he had the Eagles albums and things like that. I was exposed to soft rock as well because we didn't have Hot 97 and WBLS. We had WABC and WNBC when I was 5 years old. It was fun to sing the Pat Benatar song. When we were kids we would sing 'Love is a Battlefield' from the top of our lungs. That was the chic anthem.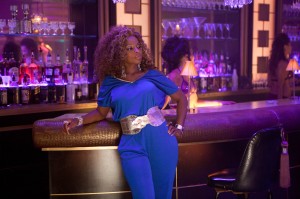 Do you have a favorite 80s song?
MJB: 'Love is a Battlefield' is one of them and I love 'Shadows of the Night.' I love Bonnie Tyler's 'Total Eclipse of the Heart.' I went out and bought that record. It was so beautiful.
How comfortable were you in that you weren't the lead?
MJB: It was perfect because I didn't have to carry a film. I'm still working on my acting, but as far as what I do, the singing, and that drama and stuff like that, it was perfect. The perfect marriage.
How much of the role was you and how much came from Adam's direction?
MJB: A lot of it was Adam's direction because I just didn't want to make it Mary. I even gave her an accent. I said she was from Mississippi because there's a lot of people that come to Los Angeles, they migrate. I didn't want to her to be Mary, but I used Mary's life experiences and who Mary is in real life to build her character, which is a woman who encourages other women to look better and feel better and be an example and kind of mother other women.
Can you talk about the costumes and the wardrobe? Were any of the outfits from your ideas?
MJB: No, they came with everything. They had these pieces of paper of what outfit matched the hair and the braids. The costume designer did her thing with that. The jewelry and everything else was mapped out. It was fun. It was like dressing for Halloween.
How was working with Tom Cruise?
MJB: For me, it was a blessing. I mean to land in the middle of such a huge star cast, it was just…I could not believe it. I had to pinch myself half the time because I love Catherine Zeta-Jones and I got a chance to meet her. And when I met her, I found out that she was a fan of mine. And she was nervous to meet me and I was nervous to meet her and I was like, 'Who knew?' Tom was just so supportive and loving and happy. He just wants everybody to get it. So you just feel he's cheering for you so you're cheering for yourself. And Russell Brand, seeing him every day, he was just fun. People had so much love on the set. It was so much fun going to work
Were you ever nervous in doing this?
MJB: The only nervousness I had was the acting part," she said. "That's why I went and got an acting coach. Because Adam gave me the role, I didn't want to be just like, 'Okay, I have the role and I'm not going to work for it.' These are seasoned actors and actresses. I just don't want to fade out in the project. I want to look like I'm a part of this. So I worked for it. I went and got my coach and did what I could.
Did you feel more comfortable on the days you had to sing?
MJB: Yeah. That makes you comfortable.
After doing this film, would you consider doing Broadway?
MJB: I don't know. If it's a good role and something good, then yean. It's it fitting and not just anything.
Is there a difference recording music for film than recording for an album?
MJB: No. It's the same.
Did any of the cast come to you for advice?
MJB: No. They did pretty good on their own.
Did you want to do more in the film?
MJB: Once you give me something, my mind is set on what I have to do, so I do it without thinking I want to do more. I just did what I was supposed to do, and if I was assigned to do more, I would have done more.
What do you about the transition from rock to boy band?
MJB: That was depressing because rock is such an expression. You are really expressing yourself for rock and then they put you in a boy band that you don't want to be in. You look corny. Your hair's corny, your clothes are corny and it just kills who you are. It's depressing.
Do you think the passion of music (from the 80s) is different from the state of music today? Has it gotten better or worse?
MJB: I think the freedom to express yourself and be the artist that you dream of being is gone because there is so much manufacturing of the same thing. You have to do this because it worked for her. You have to do this because it worked for him. In the 80s, everyone did whatever they wanted to do, and that why's there was good music and different hair and different outfits.
Are you comfortable watching yourself on screen?
MJB: I'm just starting to get comfortable with watching myself in a movie. I'm my worst critic so I'm seeing little mistakes. I'm seeing everything I got wrong. I'm killing myself. I'm trying to get used to that.
What you do think about the message Justice gave to Hough's character about empowerment?
MJB: Well, I mean, just as her job, she was running a strip club. So at the same time she was saying, 'You can't stay here. This is just a rest stop. But while you're here, you better do the best doggone stripping job you can do.' Because that's what she does. You've got to commit to the thing.

Archives