Tyler Perry talks Alex Cross, doing a lead role, and his venture with Oprah Winfrey
Tyler Perry talks 'Alex Cross,' doing a lead role, and his venture with Oprah Winfrey
By Wilson Morales
October 16, 2012
Coming out this week is 'Alex Cross,' starring Tyler Perry in his first lead role that he didn't produce or direct.
Directed by Rob Cohen, the film also stars Ed Burns, Matthew Fox, Rachel Nichols, Jean Reno, Carmen Ejogo, Cicely Tyson, , Yara Sahidi, Sayeed Sahidi, and Chad Lindberg.
Opening on October 19, Alex Cross follows the homicide detective/psychologist (Tyler Perry), from the worldwide best-selling novels by James Patterson, as he meets his match in a serial killer (Matthew Fox). The two face off in a high-stakes game of cat and mouse, but when the mission gets personal, Cross is pushed to the edge of his moral and psychological limits in this taut and exciting action.
For Perry, who's been successful with his own films and from behind the camera, the role of Alex Cross, gave him the opportunity to watch a learn from another director, and to take on a role in an action thriller, a genre that puts him in an untested field. He previously appeared in a cameo role in J. J Abrams' 'Star Trek.'
Blackfilm got a chance to speak exclusive with Perry as he talked about the role of Alex Cross, working with Rob Cohen, and his recent collaboration with Oprah Winfrey.
What was the attraction to playing a lead role in a film that you're not directing or producing?
Tyler Perry: It was the combination of Rob Cohen the director and James Patterson the author, and a character that's iconic as Alex Cross. It's all a yes, yes for me.
Were you aware that Idris Elba was once talked about for the role?
TP: I didn't know anything about that. I just recently started hearing about when I was halfway through production that that was even in the air.

How much of the Alex Cross novels had you read prior to taking on the film?
TP: I had only seen the two films that Morgan Freeman had done and then I did a lot of research afterwards. What I was trying to do was bring my own version than recreate what Morgan had done. When I read some of the description in the book of who Alex Cross looked like, who he was, and his physique, height and everything, I thought was James was describing me.
How did you prepare for the role?
TP: For me, I spent a lot of time trying to know what a psychologist would understand about profiling serial killers and Alex is brilliant. I spent a lot of time with the Atlanta police department, the homicide department. We knocked on doors, did rounds, and did all those types of things and took that in and did some fighting training. It all worked out well.
How challenging was this for you, physically?
TP: I trained twice a day doing martial arts. I kept going after I stopped shooting because it's really about self protection and self awareness. It's an amazing form of martial arts that is an ass-kicking workout that keeps me on point.
How was working with this cast?
TP: That was the other thing that appealed to me, this cast. It's a well, rounded ensemble and I wouldn't have to carry the weight of the entire film. Matthew Fox was brilliant although we only spoke twice during the filming because we were enemies and he's a very nice guy and I didn't want to let that interfere with what I had to do, and neither did he. Ed Burns hit it off like we were brothers.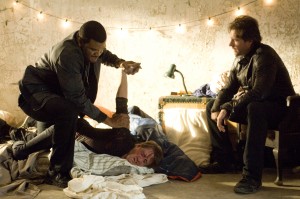 How was working with Cicely Tyson again?
TP: First of all, I didn't know Rob (Cohen) had hired her. I was very surprised and I welcomed it because I've always had the chance to direct her and this was a chance to be directed opposite her and it was quite intimidating and quite thrilling. It was a moment for me in my life that I will never forget. It was wonderful.
You are used to shooting most of your films in Atlanta and this film was shot in Cleveland. What's the difference?
TP: I had nothing to do with where the movie was filmed. I completely showed up as an actor, to do whatever I was told to do and do it. We went to Cleveland and Detroit and shot, and pulled my bus to the set and lived in my bus for a couple of months.
Are you to looking to do more acting roles outside your own projects?
TP: I enjoy it. There are so many parts in me that wants to work and I really enjoy it. My whole point at this point is to let the people be the judge. I have nothing to say either way about what I think I did. I just want the people to judge it and let me know what they think once they see it.
You once said to us that you don't want to be in a film that you think you can direct as well. Is 'Alex Cross' a film that you can do, in terms of directing?
TP: If you look at my films and the way that I direct, they are very simple stories, nothing complicated, and there's not a whole lot of style that's going on. It's just a simple story that I can do and do well. When you look at something like 'Alex Cross,' a big film that has a lot of action and complicated, not only was I acting, but a student of Rob Cohen and the way he was doing things. I was paying very attention to his brilliance and how he did it, so no, absolutely not. This is something that only Rob Cohen could have done and I tried my hardest to do my best with it. This is something that I could not have done, least not yet anyway. I was a student on set.
Having worked on this film, and learning from Rob, does this change your way of directing and maybe the types of films you want to do besides the Madea films?
TP: I'm interested in a lot of different things that I want to do. I think what this film has done is pique my interest in looking at other roles and other ideas outside of my own, but yeah, it was really great being able to do this. It was the same with J.J Abrams (when I was in 'Star Trek'). Getting a chance to watch these brilliant directors clearly lets me know that there is so much that I have to learn and I'm very excited about taking that journey.
Congrats on the success of 'Witness Protection.' Should 'Alex Cross' do just as well at the box office, are you signed on to do more films?
TP: Yes, Witness Protection was my second highest movie out of the 15 films I've done so far. It did really, really well. Right now, there's no contractual agreement for a follow up to 'Alex Cross,' but I would be open to that.
What's next for you?
TP: I just started writing a new movie. I have two new movies that I'll be doing now and the first couple of months of the new year that I'm pretty excited about it. I have two movies coming out next year with 'Marriage Counselor' and one that I'm just producing called 'We the Peoples.'
Congrats your partnership with Oprah. Can you talk about helping her out on OWN?
TP: Well, it's more than helping her with projects. It's a equity stake in the network and I'm pretty excited about having that position; to be able to come in and have a home for everything that I'm doing right now. This is not me giving up on my own network. This is a moment to stop and I see an avenue were we both can help each other greatly and I can learn a lot before I step into it, and I can help out with programming. It's a good situation on both sides.
What's a good reason to see 'Alex Cross?'
TP: It's a fantastic, amazing thrill ride and I want people to get out and they will see. All I asking is that come out and you be the judge.
Trailer
1st TV Spot

Archives